Tom
has been a Personal Trainer for over 12 yrs with a B.S. degree in Kinesiology. He is ACE, CPR, and AED certified. Tom loves helping people achieve their goals and prides himself on being able to modify an exercise program for every individual's needs. Focusing on functional and body weight movements, but also believing in teaching his clients how to use and feel comfortable with every piece of equipment in the gym. Tom has competed on American Ninja Warrior and has a background of baseball, football and track and field.
Stephan is an ACE Certified Personal Trainer + Orthopedic Exercise Specialist. He has been a trainer for over 10 years. He is constantly learning, holding certificates for Functional Movement Screen L1, Fascial Stretch Therapist L1, Movement and Mobility Specialist and a Mobility WOD Coach. He focuses on getting you mobile, stronger, and moving well- so you'll be better in everything you do with your body!
Byron
has been personal training and group coaching since 2001. He is certified in Muscle Activation Techniques and SQUARE1 as a MCRS (motor control restoration specialist). He minimizes the need to compensate so that his client's bodies are more resilient to stress. Commonly, within 1 session, he is able to improve mobility and diminish aches and pains. Byron has a deep passion for helping others through health and fitness.
Moniqu
e
has been a Personal Trainer for over 17 years. Monique has worked with Triathletes, Marathon runners, as well as with weight/fat loss, and strength + conditioning. She is experienced in Boxing, TRX, Kettlebell training, and working with Senior Citizens. She is a member of ISSA, ACE, and NASM.
Wes
has been a Certified Personal Trainer for 17 years. He lives and breathes health and fitness. With a Bachelor of Science from ISU and a Coaching Minor, he's intrinsically motivated by seeing his clients reach their personal goals, overcome life fears, and improve their quality of life. His PT Cerifications: NASM, PTA Global + NSCF. His areas of expertise are: fat loss, muscle imbalances, trigger points, sports specific training, overall fitness and toning, taking

clients

out of everyday pain and private volleyball lessons. He has played/coached volleyball for over 22 years.
Meghan
is an NASM Certified Personal Trainer and level 3 USA Cycling coach. She has over 12 years experience teaching spin classes, weight-lifting, and group exercise. Meghan is an experienced runner, ultrarunner, and triathlete competing, winning and placing in 5ks, 10ks, half-marathons, marathons, ultra distances, and triathlons. She also holds multiple state Powerlifting records. Meghan is also a USA Track and Field coach and a RRCA (Road Runners of America) certified distance coach. She is passionate about helping others.
805 BURLINGTON AVENUE
WESTERN SPRINGS IL 60558
708.246.4521
ELITEFITNESSTRAINING@COMCAST.NET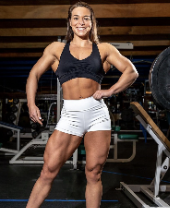 Julia
has a diverse athetic bakground from half and full marthons to powerlifting and weightlifting. She's competed in bodybuilding for 4 years leading her to 4 first place titles and most recently the status of an IFBB Figure Pro. Julia is also a professionally ranked powerlifter. She's most proud of reaching a 460 lb squat. She trains all levels. Whether your goal is to get stronger, lose weight, learn something new or just feel confident in the gym, she's here for you.
Tim
has been a Certified Personal Trainer since 1998. He is NASM- CES, TRX, Kettlebell Athletics and nutritionally certified. Tim is also a graduate of Eastern Illinois University (B.A. Political Science) and served in the Air Force National Guard. His approach to fitness is rather simple- focus on the foundations of a healthy body. He has the skills and passion to work with clients of all levels. "Being healthy and active are the cornerstones to lifelong happiness. Make yourself a priority so you can be at your best for others."
Mary Kay
has been an ACE Certified Personal Trainer/ACE Group Fitness Trainer for over 10 years. She is an accomplished triathlete and avid runner since junior high. Mary Kay has taught at our local Rec Center, founded and owned an aqua fitness business- RUNDEEP, and has been devoted to our community for many years. She's been a life long sports enthusiast playing volleyball as well. She loves people and brings so much good energy into her classes and training. She makes fitness fun!